Our

Doctor
Dr. James C. Totten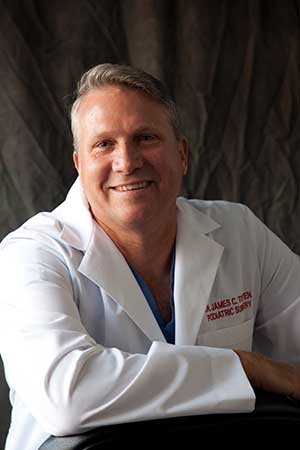 Dr. James Cheron Totten of Foot and Ankle Specialists of NJ, LLC is one of the few distinguished Foot and Ankle Surgeons in the Country who is Triple Board certified in his specialty. Dr. Totten continues to maintain Diplomate status from all three national certifying boards. Including the American Board of Podiatric Orthopedics and Primary Medicine and the American Board of Foot and Ankle Surgery in Foot Surgery and American Board of Foot and Ankle Surgery in Rear foot and Ankle Reconstructive Surgery. Dr. Totten has over 30 years of experience in treating all types of foot and ankle disorders. He is on staff at Glen Ridge Surgi- Center in Glen Ridge, New Jersey and St. Barnabas Medical Center in Livingston, New Jersey.
Throughout his entire career he has always been actively involved in training the next generation of exceptional foot and ankle surgeons and residents from local hospitals in Morris and Essex County. For many years he was a Clinical Faculty Instructor at University Hospital of Medicine and Dentistry (UMDNJ) Dr. Totten received his residency training at Cambridge Hospital, Cambridge Massachusetts, affiliated with Harvard Medical School. He has a vast amount of clinical and didactic knowledge in pediatric and adult foot and ankle disorders. Dr. Totten takes great pride in the more difficult and advanced challenging pediatric and adult foot, ankle and lower extremity leg cases. These cases are routinely referred to him from his medical peers, including Internists, Pediatricians, Orthopedists, Chiropractors and his Podiatric colleagues.
Some of the procedures he routinely performs includes pediatric flatfoot reconstruction, Achilles tendon lengthening, mid foot osteotomies, Young tenosuspensions, Evan's calcaneal lengthening osteotomy, Subtalar joint fusions , triple arthrodesis, ankle fusions, heel pain surgery, complicated bunion procedures, lapidus fusions, foot and ankle fracture repair, Achilles tendon rupture repair, hammertoe repair, pediatric and adult flatfoot hypermobility syndrome surgery, tendon transfers, high arch foot ( Cavus ) repair, Dwyer and Samilson , keck and Kelly and other calcaneal osteotomies, Lateral ankle stabilization ligamentous surgery for ankle instability. Dr. Totten also specializes in Pediatric hypermobility flatfoot surgery and has perfected these complicated pediatric flatfoot procedures including arthroeresis surgery from the Stay Peg, MBA. Hyprocure, and conical sinus tarsi implants.
The success of these implants often requires other procedures on children and adults, including Achilles tendon lengthening or the "Totten" Modification of the T-type Gastrocnemius recession procedure. He also treats many non - surgical foot and problems both pediatric, ( infants, adolescent children ) and adults. Internal femoral and tibial rotation " in toeing " of gait, metatarsal adducts. forefoot abductus, calcaneal valgus, clubfoot deformities, short leg syndrome, secondary to lower back pain, sciatica, medial knee syndrome, from altered mal alignment from lower extremity biomechanics. Some of these cases can be treated with non - surgical orthotic management. Other procedures include ankle arthrotomy, ankle arthroscopy. ankle fusions, mid foot reconstruction, lateral ankle stabilization repair with the peroneal longus auto graft with "Totten" modification double ligament repair, Gastrocnemius recession, Achilles tendon Bosworth rupture repair, posterior tibial tendon Dysfunction repair with complete synovectomy with miller osteotomy.
Hospitals and Surgical Center Affilates
Glen Ridge Surgi-Center
230 Sherman Ave.
Glen Ridge, NJ 07028
phone: (973) 783-2626
fax: (973) 680-4211
RWJ Barnabas Health
Saint Barnabas Medical Center
94 Old Short Hills Road
Livingston, NJ 07039
(973) 322-5000
Education
Undergraduate: Binghamton University (SUNY)
Medical School: California College of Podiatric Medicine and Surgery, San Francisco, CA
Surgical Externships: Fort Benning, GA and Fort Bragg, NC
Residency: Cambridge Hospital affiliated with Harvard Medical School, Cambridge, MA. Roseland Surgical Center, Roseland, NJ
Past Clinical Faculty Instructor: University of Medicine and Dentistry, Newark, NJ (UMD&J)